"Keep close to Nature's heart… and break clear away, once in awhile, and climb a mountain or spend a week in the woods. Wash your spirit clean."  John Muir

HAPPY EARTH DAY!
May all the residents of Mater Terra find peace.
---
---
CALLS FOR SUBMISSIONS
Opportunity Knocks
ALASKA QUARTERLY REVIEW, a literary journal of the University of Alaska, Anchorage with the Center for the Narrative and Lyric Arts, encourages new and emerging poets and writers. Of interests: short stories, novel excerpts, poems, literary nonfiction, and photo essays. Experimental styles are welcome. The reading period for unsolicited manuscripts closes on May 1.  Details HERE.
FURROW MAGAZINE publishes fiction, poetry, nonfiction art, and comics and the next reading period will open on December 1, 2018 for the 2019 issue. Details HERE.
NEW LETTERS reviews submissions of essay, novel chapter, poetry, short story, book review and art submitted between December 2 and April 30. Payment and contributor copies. Details HERE.
MiDWAY JOURNAL reading period for prose, poetry, and art/ephemera/multi genre/interview through May 31. Submission fee. Details HERE.
THE MOTH, arts and literature, invites submissions of poetry and prose from around the world . Details HERE.  Note: There's also a junior edition, The Caterpillar, with an open call for poetry.
ORISON BOOKS "seeks to publish spiritually-engaged poetry, fiction, and nonfiction of exceptional literary merit." Submissions are welcome year-round for nonfiction, poetry and anthology proposals.  General fiction is accepted in October only. Submission fees. Details HERE.
TERSE JOURNAL invites submission of the following themes: "worlding, futures, identity, technology, hyperreality, embodiment, healing, mourning, the tarot/divination, memory, small press culture, captivity/confinement/incarceration, disability" expressed in "poetry (erasure poetry, found poetry, experimental poetry, all poetry!), collage, critical essays (academic-style essays are considered), reviews, interviews, mixed media, audio recordings, visual art (drawings, paintings, photographs), creative non-fiction, science fiction, flash fiction, letters, mix tapes."  This is a volunteer run publication with no submission fees and a rolling submission policy. Details HERE.
---
The BeZine
Call for submission for the June issue.
THE BeZINE, Be Inspired, Be Creative, Be Peace, Be. Submissions for the June issue – themed Sustainability –close on May 10 at 11:59 p.m. PDT.  
New rules: Please send text in the body of the email not as an attachment. Send photographs or illustrations as attachments. No google docs or Dropbox or other such. No rich text. Send submissions to bardogroup@gmail.com.
Publication is June 15th. Poetry, essays, fiction and creative nonfiction, art and photography, music (videos or essays), and whatever lends itself to online presentation is welcome for consideration.
No demographic restrictions.
Please read at least one issue and the Intro/Mission Statement and Submission Guidelines. We DO NOT publish anything that promotes hate, divisiveness or violence or that is scornful or in any way dismissive of "other" peoples. 
June 2018 issue, Deadline May 10th. Theme: Sustainability
September 2018 issue, Deadline August 10th, Theme: Human Rights/Social Justice
December 2018 issue, Deadline November 10th, Theme: A Life of the Spirit
The BeZine is an entirely volunteer effort, a mission. It is not a paying market but neither does it charge submission or subscription fees.
Previously published work may be submitted IF you hold the copyright. Submissions from beginning and emerging artists as well as pro are encouraged and we have a special interest in getting more submissions of short stores, feature articles, music videos and art for consideration. 
---
CONTESTS
Opportunity Knocks
THE MOTH SHORT STORY PRIZE invites submissions of up to 5,000   words. Entry fee €12 per story. Cash awards: 1st prize €3,000; 2nd prize week-long writing retreat at Circle of Misse in France plus €250 travel stipend; 3rd prize €1,000. Deadline 30 June 2018. Details HERE.
MiDWAY JOURNAL'S -1,000 BELOW FLASH PROSE AND POETRY CONTEST closes May 31st. There is a $10 submission fee. Cash awards: First Prize: $500 + publication in Midway Journal; Second Prize:$250 + publication in Midway Journal; and, Third Prize: $50 + publication in Midway Journal. Details HERE.
NEW LETTERS & BKMK Press is offering $5,500 in awards for writers | Deadline: May 18, 2018: the $2,500 Conger Beasley Jr. Award for Nonfiction for the best Essay; The $1,500 New Letters Prize for Poetry for the best group of three to six poems. Submission fees. Details HERE.
THE ORISON ANTHOLOGY AWARDS IN FICTION, NONFICTION, AND POETRY is open for submission through August 1. Cash award and publication. Entry fee. Details HERE.
---
EVENT/S
Accessible anytime from anywhere in the world:
The Poet by Day always available online with poems, poets and writers, news and information.
The Poet by Day, Wednesday Writing Prompt, online every week (except for vacation) and all are invited to take part no matter the stage of career or status. Poems related to the challenge of the week (always theme based not form based) will be published here on the following Tuesday.
The Poet by Day, Sunday Announcements. Every week (except for vacation) opportunity knocks for poets and writers. Due to other Sunday commitments, this post will often go up late in the day.
THE BeZINE, Be Inspired, Be Creative, Be Peace, Be – always online HERE.  
Beguine Again, daily inspiration and spiritual practice  – always online HERE.  Beguine Again is the sister site to The BeZine.
---
OTHER NEWS and INFORMATION
 Not the continent with 54 countries
AFRICA IS A COUNTRY was founded by Sean Jacobs in 2009, growing out of the blog Leo Africanus (2007-2009). It started as an outlet to challenge the received media wisdoms about Africa from a left perspective, informed by his experiences of resistance movements to Apartheid.
Since then it has grown in size to include a larger geographic scope and, crucially, launched the careers of a number of young African and diaspora writers, scholars and artists to a point where as the South African newspaper Mail & Guardian concluded:
Try as you might, it is hard not to turn an online corner in Africa without bumping into Africa is a Country.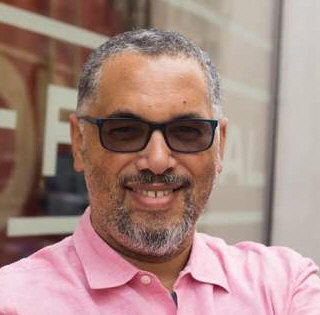 *SEAN JACOBS, a native of Cape Town, South Africa, holds a Ph.D. in Politics from the University of London and a M.A. in Political Science from Northwestern University. He is currently writing a book on the intersection of mass media, globalization and liberal democracy in post-apartheid South Africa. He is co-editor of Thabo Mbeki's World: The Politics and Ideology of the South African President (Zed Books, 2002) and Shifting Selves: Post-Apartheid Essays on Mass Media, Culture and Identity (Kwela Books, 2004). His most recent scholarly articles have appeared in Politique Africaine(2006) and Media, Culture, and Society (2007); and has contributed reviews and opeds to The Guardian, The New York Times, Volkskrant, The National and The Nation. Previously he taught African Studies as well as communication studies at the University of Michigan in Ann Arbor. He also worked as a political researcher for the Institute for Democracy in South Africa. Jacobs founded Africa is a Country.Today it features online commentary, original writing, media criticism, videos, audio, and photography, becoming one of the leading intellectual voices in the African — particularly from the left — online media sphere.
© 2018, words and photograph, Sean Jacobs and Africa Is Not a Country
---
Good Books Cooking
Pski's Porch is almost ready to welcome Spring time, shake the snow and dry pine needles off, and sit in the morning sun. But before we can do that, BOOKS.
What books? Well, we started a quarterly journal with Catfish McDaris and Mendes Biondo a while back, the Ramingo's Porch. Each issue is bursting with literary wonderment, too much quality for too few units of currency: Ramingo 1   Ramingo 2, and Ramingo 3 is on the way. No subscriptions available, since we don't know how long it will last, or in what form, making each issue even more precious,
We also published Constimocrazy: Malafricanizing Democracy, by Nsah Mala, a sharp, thoughtful collection from Cameroon. These are excellent, funny, fiercely political poems meant to provoke and instruct and inspire in equal measure.
In March, we set free Jay Passers's they lied to me when they said everything would be alright, the first collection of poems from a Bay area poet who whispers in his reader's left ear while barking in the right, "like a bear with a chain on its bullring, both the pain and desire for freedom are connected in the expression the poems manifest," as Ben John Smith so eloquently put it. Still surprised, here at the Porch, that this is Jay's first book, but glad we could help him put out.
In April, we have the privilege of publishing Guinotte Wise's latest book of poems, Horses See Ghosts. Wise's poems set the reader aflame in a field of tall grass and waits for the fire to work down the hill toward town. This is the second of Guinotte's books we have had the opportunity to publish, and the first to feature Ben Carmean's meticulous, engaging design skills.
So much good stuff on the way: new books from John Doyle, Peter Clarke, Marianne Szlyk, John Lambremont, Sr., Ryan Quinn Flanagan, and more….
Books are good people–
Pski's Porch Publishing
---
YOUR SUNDAY ANNOUNCEMENTS may be emailed to thepoetbyday@gmail.com. Please do so at least a week in advance.
If you would like me to consider reviewing your book, chapbook, magazine or film, here are some general guidelines:
send PDF to jamiededes@gmail.com (Note: I have a backlog of six or seven months, so at this writing I suggest you wait until June 2018 to forward anything.Thank you!)
nothing that foments hate or misunderstanding
nothing violent or encouraging of violence
English only, though Spanish is okay if accompanied by translation
your book or other product  should be easy for readers to find through your site or other venues.
---
TO CONTACT ME WITH ANNOUNCEMENTS AND OTHER INFORMATION FOR THE POET BY DAY: thepoetbyday@gmail.com
TO CONTACT ME REGARDING SUBMISSIONS FOR THE BeZINE: bardogroup@gmail.com
PLEASE do not mix the communications between the two.
---
Often information is just that–information– and not necessarily recommendation. I haven't worked with all the publications or other organizations featured in my regular Sunday Announcements or other announcements shared on this site. Awards and contests are often (generally) a means to generate income, publicity and marketing mailing lists for the host organizations, some of which are more reputable than others. I rarely attend events anymore. Caveat Emptor: Please be sure to verify information for yourself before submitting work, buying products, paying fees or attending events et al.
---
ABOUT